Press
Room
Top 5 Aerospace Startups for 2018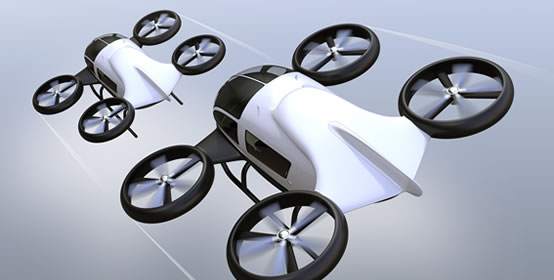 In the last decade, the aerospace industry has transformed itself into one of the most lucrative and formidable industries in existence today. Each year, it welcomes dozens of startups, some of which go onto become household names.
This year is no exception as a number of recently launched aerospace companies aim to make their mark in this challenging yet fascinating market. These five aerospace startups are the ones to be watched in 2018.
Aerotronic
Aerotronic is headquartered in Indianapolis, Indiana and specializes in making unmanned aircraft. In particular, its aircraft named Dauntless has gained notice in this industry for its single rotor design.
All of the aerospace vessels made by Aerotronic are crafted with advanced composite manufacturing technology. They also feature lithium polymer batteries, making them energy efficient and more powerful than aircraft that relies on fossil fuels.
The leaders of Aerotronic strive to bring their unmanned single rotor vessels into the UAV market. They envision their vessels being used in industries like petroleum and oil, fire and rescue, mapping, transportation, and the military.
Wright Electric
Wright Electric is based in Los Angeles, California and was founded in 2016. Since then, it has gained notice in the aerospace industry for its battery-operated commercial airliners. While the company has yet to launch a successful prototype of one of these vessels, it has garnered respect from its peers in the commercial airliner industry. Named for the Wright Brothers, Wright Electric recently partnered with the U.K. airliner EasyJet to build a 180-passenger battery-operated commercial airliner.
Ultimately, Wright Electric envisions its airplanes being used for journeys that are under 300 miles. It is designing its futuristic planes to have high aspect ratio wings for prime energy efficiency. Along with the 180-seat passenger airliner it is designing with EasyJet, Wright Electric is also working on a 10-seat compact battery-operated airplane as well as a 120-seat single aisle passenger jet that will operate with 50 percent less noise and 10 percent less cost.
Orbital Micro Systems
Orbital Micro Systems, headquartered in Oxfordshire, U.K., creates weather satellites that alert people to weather-related disasters like hurricanes, typhoons, and blizzards.
Its primary goal is to help as many people as possible prepare to take action and protect themselves from catastrophes that could result in significant loss of life and property. Its weather satellites collect and utilize data that has the potential to warn and protect up to five billion people around the globe. Its satellites are used by companies that operate in industries like agriculture, financial modeling, risk mitigation, transportation, and research.
It prides itself on making available real-time data with its weather satellites. The data it collects is refreshed every 15 minutes.
iJet Technologies
iJet Technologies is based in Seattle, Washington and creates high-tech solutions that collects data and disseminates solutions for the aviation industry. The services and products that iJet offers to clients are software based and designed to be flexible. The ultimate goal of these solutions is to create cross-functional and cross-enterprise data integration.
The services and solutions that iJet Technologies offers is available to airliners both on the ground and in the air. The systems can turn data into operational insight and provide reports on flight activities like the duration of turbulence and path tracking.
Synapsemx
Synapsemx is located in Atlanta, Georgia and creates cloud-based platforms for commercial airliners. The focus of these platforms is to enhance team productivity and minimize downtime of air crafts. It offers coordination and solutions to get airliners back in the air and in service faster. Synapsemx also makes available real-time data on clients' air crafts so that commercial airliner companies are alerted early via email, text, or in-app notifications to mechanical issues and possible malfunctions. The services available from Synapsemx allow clients to remain in compliance with governmental auditors and inspectors and bolsters their companies' credibility.
These five aerospace startups are gaining prominence and respect in the ever-growing aerospace industry. They continue to offer technology that has virtually been unheard of until now. They could transform the way that businesses in this industry function in the near future.